THANK YOU ALL FOR VOTING 'THE LEGAL EDITION' THE 2017 VIEWER'S CHOICE IN PROGRAMMING!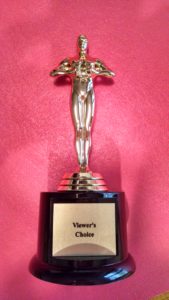 The Legal Edition provides the latest Legal, Business & Policy News on issues that mainstream media ignores or overlooks. Whether it be Privacy, Surveillance, GMO's & Toxic Herbicides sprayed on food, or Deadly compounds mixed with vaccines, or placed in human teeth–The Legal Edition reports it. To learn more about these issues and the policies behind them, visit our blog at 'Blog-Point-in-the-News,' and see our Publications online. So stay tuned, stay involved–watch and subscribe to The Legal Edition–Where Knowledge & Information Empowers.TM
New Releases
Early Insults: Effects of Chemical, Metal & Water-Borne Contaminants on the Developing Brain


– Guest:
Dr. David Bellinger, PhD – Professor of Neurology & Psychology at Harvard Medical School, and a Sr. Research Associate in Neurology at Boston Children's Hospital.
Dr. Bellinger holds a PhD in Psychology from Cornell University and a Master's degree in Epidemiology from Harvard School of Public Health. He also holds a secondary appointment as Professor in the Department of Environmental Health at Harvard School of Public Health; and is the current President of the International Society for Children's Health and the Environment.

Discussion centers on toxicants in the environment that have a negative effect on the developing brain. Included in discussion is the effect of lead in water–including the issues seen in Flint, Michigan; in addition to phthalates (BPA), pesticides (organophosphates), methylmercury and other water and air borne pollutants that find their way into the food chain and into adults and children. Also discussed ways to mitigate the harmful effects and ways to avoid further harm–as well as a call for parent & legislative advocacy to stop the current EPA and administration from further putting our nation's children at risk.

Who's in Charge of the Internet? Privacy, GeoPolitics & the Big Chill


– Guest:
Professor Vivek Krishnamurthy, Assistant Director of Harvard Law School Cyberlaw Clinic & Lecturer trained in International Law. His clinical teaching focuses on the regulation of the internet across borders—and on the human rights impacts of internet-based technologies. He advises activists, journalists, governments, and technology companies on internet technology & effect on human rights around the world. He is a graduate of the University of Toronto, Yale Law School, and the University of Oxford, where he was a Rhodes Scholar.

Discussion on how the Internet is affected by policies of individual nations and their laws that define "privacy" – and how these laws might eventually affect what we can see and find on the Internet–across the globe. Issues include free speech, the right to be forgotten, search and seizure of digital "evidence," and what new revelations may have in store for the "free and open" internet.

The Common Good Nation – A Nation Defined by Agreement


– Guest:
Dr. Terry Mollner, EdD. Board Member of Ben & Jerry's and Co-Founder of the Calvert Social Investment Funds–the first family of investment funds focusing on social responsibility. As an active Board Member of Ben & Jerry's–Dr. Mollner was instrumental in negotiating a successful buyout by international conglomerate Unilever–including agreement to continue the ongoing socially responsible mission of Ben & Jerry's. As a result of the success of this one agreement,  Unilever has adopted these socially responsible policies worldwide.

Discussion on how to effectuate positive social policy by agreement of 'like-minded' individuals–and not by individual nations. Dr. Mollner has written numerous books on the Common Good. His most recent book, 'The Common Good Nation' advances socially responsible policies–some which touch upon issues of agreement–including the Paris Climate change Accord–agreements that can transcend geographic borders. He explains the concept of the 'Common Good Nation' and how socially responsible individuals can come together by agreement–not by geography–to make lasting and purposeful social change–for good!

Public Education in America: Under Control, or Under Siege?


– Guest:
Dr. Meira Levinson, Professor of Education at Harvard University's Graduate School of Education. Dr. Levinson is also the founder of JusticeinSchools.org and an Award winning Author of numerous books on ethics in education and educational dilemmas in the classroom and in policy.

Discussion on charter schools, vouchers, special education–in addition to what educational policies may be expected under the newly appointed US Secretary of Education, Betsy DeVos.

Going Dark or Getting Personal? The Battle Between Data, Privacy & Our Constitution


– Guest:
Attorney David O'Brien–Senior Researcher at Harvard University's Berkman Klein Center for Internet & Society at Harvard University makes followup guest appearance–the Second in the Series: "Going Dark, or Getting Personal?" the continuing discussion on the "Going Dark" debate. Attorney O'Brien and The Legal Edition Host: Attorney & Policy Consultant, Mary Kay Elloian, engage in legal and practical dialog on cybersecurity–and its effects on Constitutional protections.

Discussion: How cybersecurity may manifest as warrantless intrusions and violations of Constitutional protections afforded by the First, Fourth, and even the Third Amendment to our US Constitution. Discussion includes what individuals and businesses need to know to protect against warrantless intrusion by governmental actors. Also discussed how nongovernmental hackers pose a risk to cybersecurity, through online piracy of private records and information, data breaches–exposing proprietary secrets to potential theft and liability exposure–and what corporations and individuals need to do to protect their privacy and their data. For more on the scope and breadth of this fascinating topic, watch both segments of "Going Dark, or Getting Personal?" only on The Legal Edition!

Going Dark or Getting Personal? The Battle Between Data, Privacy & Intrusion


– Guests:
Bruce Schneier–internationally renowned security expert, a Fellow at the Berkman Klein Center for Internet & Society at Harvard University; he is the author of 12 books–including the New York Times best-seller "Data and Goliath: The Hidden Battles to Collect Your Data and Control Your World" and is a Board Member of the Electronic Frontier Foundation, and an Advisory Board member of the Electronic Privacy Information Center.

Attorney David O'Brien–Senior Researcher at Harvard University's Berkman Klein Center for Internet & Society. He has authored numerous articles, white-papers, and reports on cybersecurity and privacy for the Berkman Center, and serves on the advisory board for Harvard's Open Data Assistance Program..

Discussion on the new report issued by the Berkman Klein Center for Internet & Society at Harvard University on the issue of "Going Dark," and the role of law enforcement and privacy rights under scrutiny in the Apple iPhone Encryption litigation unfolding in the Federal Courts. This is one program for those in law enforcement, cryptography and privacy rights won't want to miss.

Sectarianism and Schism in the Middle East: What it is & How it Came to Be


– Guest: Attorney Ara Sarian, Senior Rule of Law Advisor for the US State Department to Iraq & Afghanistan, and the International Legal Council for the European Commission (EU) on the underpinnings of the divide, its history, and what it means for modern day zealots, followers, and US & European relations & the world.

GMO Fraud: Your Food, Your Health, Your Government


– Guest: Attorney Steven Druker, Author of the Newly Released and Riveting book, 'Altered Genes, Twisted Truth-How the Venture to Genetically Engineer Our Food Has Subverted Science, Corrupted Government, and Systematically Deceived the Public.' Atty. Druker is the founder of the Alliance for Bio-Integrity speaks openly about his lawsuit against the FDA & uncovering thousands of documents about GMO products hidden from the American public. Learn about the blatant dereliction of duty by our nation's premier 'watchdog' agency–the FDA. Riveting lessons and detective work from a public interest attorney devoted to truth, transparency, and the public good!

Part 1 ~ Toxic Teeth-Toxic Truth: Mercury, Amalgams & the FDA ~ See part 2 of 'Toxic Teeth' for more on whole-body health, & the successful litigation of this new toxic tort!


– Guest: Dr. Mark A. Breiner, DDS, Author of Award-Winning Book, 'Whole-Body Dentistry' & Founder of the Breiner Whole-Body Health Center is speaking out on Mercury/Amalgams, and how the FDA & EPA deems it to be hazardous waste everywhere–except placed in the human body.  Discussion includes what traditional dental and medical professionals overlook as the source of illness and disease. Also explored are issues of patient informed consent–knowing the options, and lobbying for dental reform to provide patient choice where government mandates there be none.  To learn more, see our two part series with Dr. Mark Breiner, only on The Legal Edition.

Part 2 ~ Toxic Teeth-Toxic Truth: Mercury, Amalgams & the FDA ~ More on How to Achieve Whole Body Health, & the First Amalgam Litigation Case in the US!

– Guest: Dr. Mark A. Breiner, DDS, Author of Award Winning Book, 'Whole-Body Dentistry' & Founder of the Breiner Whole-Body Health Center. Part 2 furthers the discussion on how to achieve whole-body health while bringing to light the first US toxic tort case where mercury amalgams were challenged in court as a source of severe disease and disability including MS  – with a positive outcome for the patient challenger! To learn more, see our two part series with Dr. Mark Breiner, only on The Legal Edition.

Autism & Environmental Toxins: Mercury, Medicine & Money

– Guest: Mark Blaxill – Advocate, Researcher, Author/Educator on the link between mercury, vaccines and autism. He has authored two books: Age of Autism, and Vaccines 2.0. Blaxill, has testified before US Congressional committees, and made numerous investigations that historically trace mercury to disease. Also explored, how the courts in Italy have produced rulings linking vaccines to autism–rulings that are continually being litigated and challenged in courts outside the US. Yet these rulings and challenges go unreported in the US–leaving many Americans in the dark. To learn how our government allows this to continue–watch this episode of The Legal Edition.

Vaccine Mandates: Greater Good or Greater Greed?

– Guest: Attorney Mary Holland – Research Scholar at NYU School of Law & Co-Author: Vaccine Epidemic. Explored: First Amendment Right rights as they relate to Religious Liberties, & the 1905 US Supreme Court ruling in Jacobson v. Massachusetts which provides guidance on vaccine-mandate legislation. Also discussed, the revolving door between our US government agencies charged with protecting the public, endemic ties to BigPharma, and Whistleblower case–where paid government scientist–now fugitive–falsified vaccine safety on MMR vaccine. An intriguing story of corruption, personal greed, and how lack of oversight by government agencies puts all Americans at risk.

Part 1 0f 2 – 'Toxic Exposure – Toxic Truth' The Real Story on Vaccine Injury

– Guest Panel of Experts: Dr. Stephanie Seneff, PhD, MIT – Sr. Research Scientist; Dr. Richard Moskowitz, MD – Homeopathic Physician & Author; Attorney Kevin Conway – Vaccine Litigator (of A Civil Action fame). Discussion on the rules behind vaccine litigation, the difference between on table and off table injuries, the rules of evidence, and cases of illness and disease as they relate to vaccine injury tables and the VAERS -vaccine adverse event data reporting system. How Congress legislated long ago to limit the rights of the vaccine injured – to protect BigPhama & the Medical establishment, only on TheLegal Edition.